To the list of all articles
Guide to creating, designing, and integrating a Facebook Page and an Instagram profile
In this article, we will tell you a step-by-step guide to creating and setting up a Facebook page and look at linking an Instagram account to a Facebook page.
And so, let's start 😉
Creating a Facebook Page.
Step-by-step plan:
Step 1. Go to facebook.com/pages/create.
Step 2. Name the page.
Step 3. Select the category that defines the type of company (can be changed at any time in the settings).
Step 4. Briefly fill in the page description so that users clearly understand your brand or product.
Congratulations! You have successfully created a page.
Facebook page design.
What should you pay attention to first?
- Page information:
1. If you have a website, leave a link to it
2. Fill in the contact details for communication (phone, e-mail)
3. Adjust the hours of operation
4. Physical address (if any)
- Page cover.
Give people a visual association with your brand. It is best to write an offer on the cover: what the company offers to the consumer, why the consumer needs this offer, and what is its value?
- Page avatar.
It will appear in all comments. On the avatar, it is best to place a logo or a picture that reveals the specifics of the brand.
Create an Instagram account.
Let's go to Instagram.
To create an Instagram ad, you'll need an Instagram business account.
To create a business account, you will need a regular Instagram account. We are going through standard registration if you do not have a personal account.
To turn a regular account into a business, you need:
Go to your profile and click the icon with three horizontal lines in the upper right corner of the screen.
Click on "Settings and privacy".
Click on "Business tools and controls."
Click the Change account type button.
<
Designing an Instagram account.
The visual design of the Instagram account will be a big plus in its further growth:
Choose the appropriate avatar (logo or the picture that symbolizes the brand)
Username is the search field by which your brand can be found on Instagram
Fill in the biography: write about what you like about the brand or product, benefits, payment/delivery, etc.
Add a link to your website or YouTube channel if you have one
Add contact methods (address/phone/mail)
Create highlights (eternal stories)
Connection between Facebook Page and Instagram account
We recommend linking them together and enabling data synchronization for convenient management of the Facebook page and Instagram account. How to do it? And what it gives you?
We link the Instagram account to the Facebook page.
To link an Instagram account to a Facebook page, go to the desired page → Settings → Instagram → Connect account.
You can also check the connection between the profile and the page in the Instagram application. For this, press "Edit". The Facebook page should appear in the "Public information about the company" section.
What makes a connection between a Facebook page and an Instagram account?
Depending on your Facebook page and Instagram account access settings, other people can take action on both platforms.
Main advantages:
Cross-posting: Once linked, you can post content on both platforms simultaneously by selecting "Post to Facebook" when creating an Instagram post. This saves time that you could spend on individual posts.
Read and respond to Instagram Direct comments and messages in the Inbox section of your Facebook page.
Create Instagram ads with Meta Business Suite.
Adding an Instagram account and Facebook Page to Business Manager
Why do it? This makes it possible to manage access to a page or profile more flexibly.
For example, if you plan to cooperate with contractors, they can add new users through the Business Manager, for example, a specialist who will lead the project.
Adding a Page to a Business Manager is very simple. It is done in the Pages section of the Company Settings by clicking the "Add" button —→ "Add Page."
You can add only those pages on which you are an administrator. To add, enter the URL or the page's name in a single field and click the "Add page" button.
Once added, the page will appear in your Business Manager, and you can manage it without leaving it, giving access to the page to employees/contractors.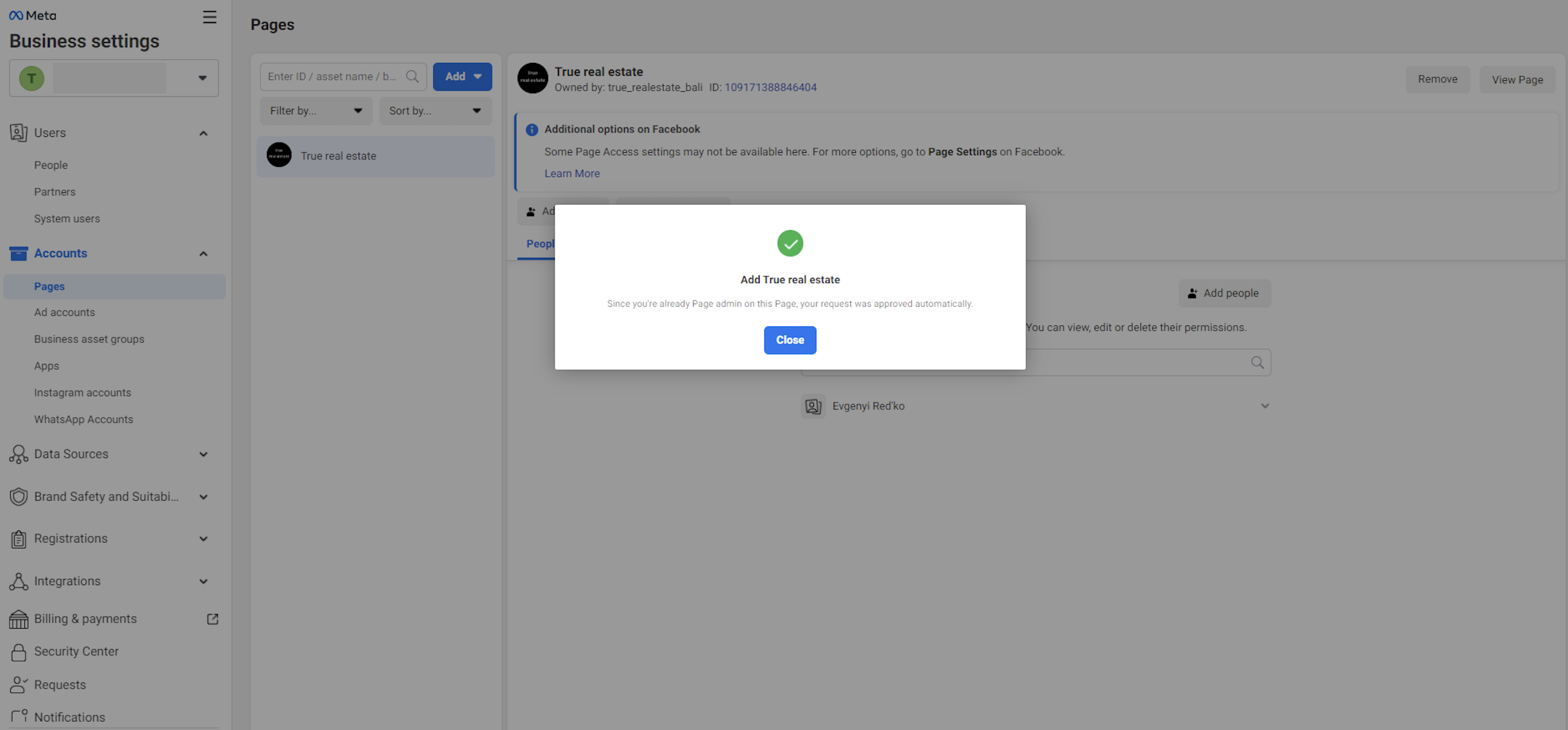 Adding an Instagram profile to Business Manager is done in the Accounts section of the Company Settings by clicking the "Add" button —→ "Connect an account."
Now that you have mastered creating, designing, and integrating a business page on Facebook and a profile on Instagram, it is time to start filling the page with quality content.
Content is considered a key component of successful promotion.
Consider creating interesting posts in different formats (reviews, photos/videos, news, etc.). And most importantly, post them regularly!
Good luck!